Booking.com7.4
Expedia.nl8.0
TripAdvisor.nl7.0
Zoover.nl8.2
Holidaycheck7.7
Google8.2
Royal hotel in Leeuwarden
Welcome to Fletcher Hotel-Paleis Stadhouderlijk Hof. The hotel is located in the center of Leeuwarden. The history of the palace goes back many years and both the in- and outside of the hotel radiate royal grandeur.
Culinary hotspot Bar Bistro DuCo
The hotel is located in a palace from the 18th century
Located in the city center of Leeuwarden
Licensed wedding venue
Six multifunctional meeting rooms
Spend the night in a palace
The rooms at Hotel-Paleis Stadhouderlijk Hof each have a special appearance and feature various facilities. The Royal Suite and the Imperial Suite are very suitable as a bridal suite or for a romantic getaway. Both suites have a lovely jacuzzi.
In the evening you can visit the atmospheric Bar Bistro DuCo Leeuwarden, where you can choose from delicious fish and meat dishes that are prepared in the official Josper charcoal oven.
Nature and culture tips
Discover the Frisian capital Leeuwarden and its beautiful surroundings. The city is rich in history and in addition to monumental buildings you will find beautiful museums, theaters and cinemas. Leeuwarden is named 'Culturele hoofdstad van 2018' for a reason. The Hotel in Leeuwarden is also within distance of a wonderful Frisian nature park, which is ideal for scenic cycling and hiking trails.
Our team warmly welcomes you!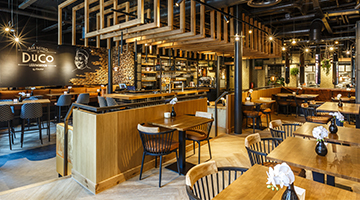 Photos and videos 
Do you already want to get in the mood before you arrive at our hotel? Check out the photos and videos of our hotel here.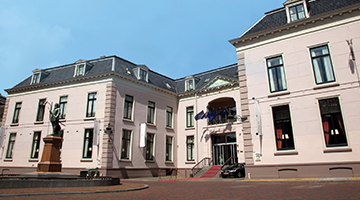 Historical Stadhouderlijk Hof
Hotel-Palace Stadhouderlijk Hof is a listed building. It has a rich history and has until 1971 been in the possession of the royal family. All rooms in this palace have a regal air.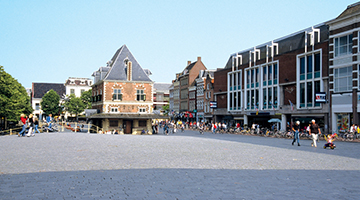 Cosy Leeuwarden
Hotel Palace Stadhouderlijk Hof is located in the heart of Leeuwarden. Here you can visit many monuments, churches and museums. In addition, the centre has special façades and streets with an ancient character.